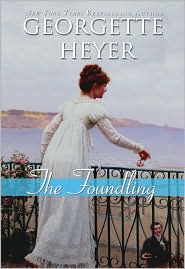 The Foundling. Georgette Heyer. 1948/2009. Sourcebooks. 439 pages.

When the young gentlemen strolling through the park with his gun on his shoulder and an elderly spaniel at his heels came within sight of the house it occurred to him that the hour must be farther advanced than he had supposed, for the sun had sunk below the great stone pile, and an autumnal mist was already creeping over the ground.


The Duke of Sale (Gilly) is twenty-four. But. He's never lived his own life, or made his own decisions. He's had an entourage for as long as he can remember. An entourage that is determined to keep him safe, healthy, and comfortable. An entourage that Gilly feels discourages his independence, his individuality. He's never known a day of freedom.

Until. His cousin Matthew shares his troubles--he is being blackmailed. And the Duke determines to "solve" this family problem all on his own. He'll do it by being nobody. Without "being" the Duke, without being the head of the family. No. He wants to see if he's capable of being a man. Of thinking and acting like a man.


Does he succeed? At over four-hundred pages, you can imagine he does. But this new freedom doesn't come without risks and challenges and mishaps. He'll pick up not one but two strangers along the way. One young man, Tom, who is foolish and prank-loving. And one young woman, Belinda, a foundling, he "rescues" from an "uncle" who doesn't have the best of intentions. Belinda will BELIEVE any man who offers her a purple dress, you see. Or a ring. She's as silly as silly can be. But Belinda is NOT the love interest of Gilly. (I was quite relieved!)

The Foundling is not my favorite Georgette Heyer. It is a bit too long. There were so many potential ending places in the last hundred pages. Places where one more paragraph could have nicely done the job. But. For whatever reason, this ending would not be rushed. I liked it, but didn't love it.

© Becky Laney of Becky's Book Reviews