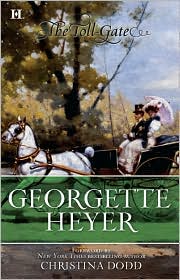 The Toll Gate. Georgette Heyer. 1954. Harlequin. 304 pages.

The Sixth Earl of Saltash glanced round the immense dining-table, and was conscious of a glow of satisfaction.

Georgette Heyer can have some rather off-topic openings, in my humble opinion, often it isn't until the second, third, or even fourth chapter until the reader can discern who the main characters are. Her books often start with a large cast of characters, focus in on a handful towards the middle, and then begin to gradually expand back into a larger cast as all the small details begin to create a bigger picture.


The Toll Gate was an enjoyable Heyer experience for many reasons. It is part love story, part mystery. The main character is a retired soldier (still young), a Captain John (Jack) Staple. He's one of many family members called to celebrate the engagement of the "Sixth Earl of Saltash" in the first chapter. However, not being the sociable sort--at least not among his family--he departs the weekend-celebration early. His destination is to ride to visit his friend, a Mr. Babbacombe. But having a rather later start than he'd planned originally, AND having taken a shortcut off the main road AND having been delayed/confused by the storms, he soon finds himself lost.

He comes to a toll-house late at night. He finds it manned by a young boy. A very young boy--a frightened child--named Ben. He learns that Ben's father, Bream is the last name, the official keeper of the gate is away. He told his son that he'd be back in a few hours, but then never returned.

Jack--a rather tall and brave and strong man--has pity on this boy and agrees to stay with him (and protect him) until his father returns.

So, Jack adopts Bream's station and becomes the temporary keeper of the toll-gate. He meets quite a few people. But the thing that changes his life forever is that he meets the tall and splendid Miss Stornaway. She is the Squire's daughter--his only child--but the property is being entailed away. Henry Stornaway--the lady's cousin--will inherit it all when the old man dies. An event that seems all too close at hand for the spirited and one-of-a-kind heroine.

And then the mystery starts to unfold...

I enjoyed this one. I enjoyed the character development. And the story was interesting. This was more adventure, more mystery than romance. If you're looking for wooing scenes in parlours and parks, parties, and country dances then this isn't the Heyer for you.


© Becky Laney of Becky's Book Reviews